There's Still Time to Book Your 2023 UK Challenge!
Explore Our UK Trekking Challenges For 2023
Are you up for a challenge closer to home in 2023? Whether you want to climb one of the UK's highest peaks, explore a UNESCO World Heritage Site, trek along the South West coast or take on a starlit walk, we have a challenge for you. You could even trek as a charity challenge for a cause that's close to your heart, and make your adventure even more meaningful!
New Challenges for 2023
3 days | 24 miles approx. | Tough (2/3)
Our newest UK trek takes us on a weekend adventure along England's only natural World Heritage Site, the awesome Jurassic Coast!
Setting off from Peveril Point, we'll visit the beautiful Kimmeridge Beach before walking further along the South West Coast Path. On our second day we'll take in views of Worbarrow Bay and the blue waters of the famous Lulworth Cove, before reaching our finish line at the iconic Durdle Door!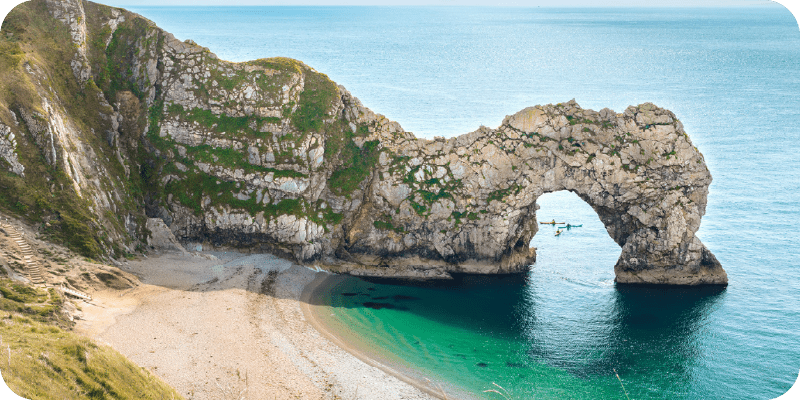 Weekend Trekking Challenges
3 days | 22 miles approx. | Extreme (3/3)
One of the most popular trekking challenges in the UK, the Three Peaks Trek involves climbing the highest mountains in Scotland, England and Wales - Ben Nevis, Scafell Pike and Snowdon!
We'll walk approximately 22 miles with a total elevation of over 9,000ft - it's no wonder this is the UK's most highly regarded trekking challenge!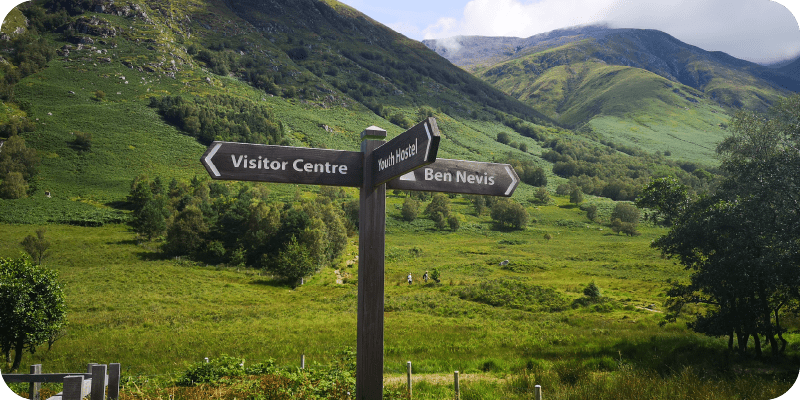 3 days | 9 miles approx. | Challenging (1/3)
This trekking challenge takes us into the Scottish Highlands, where we'll conquer the UK's highest mountain!
Ben Nevis is a challenge – stamina and determination are a must. The stunning views of the highlands will keep us going all the way, and provide a fantastic backdrop to one of the most popular charity challenges in the UK!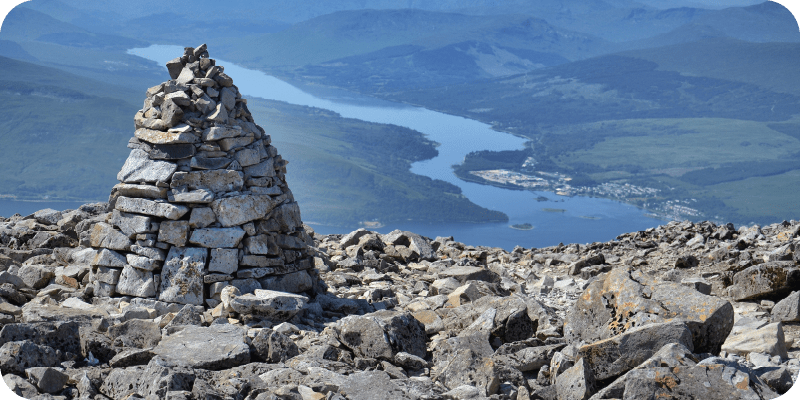 3 days | 28 miles approx. | Extreme (3/3)
If you've already conquered the Three Peaks Trek or you're looking for something different in 2023, look no further than the 24 Peaks Trekking Challenge!
Our adventure will take us to the top of 24 of the Lake District's highest peaks, where we'll be rewarded with beautiful views throughout the challenge. With 12 hours of trekking each day and a total ascent of over 12,000ft this is one of the UK's most demanding trekking challenges, but with the exceptional support of our team we'll conquer the challenge together!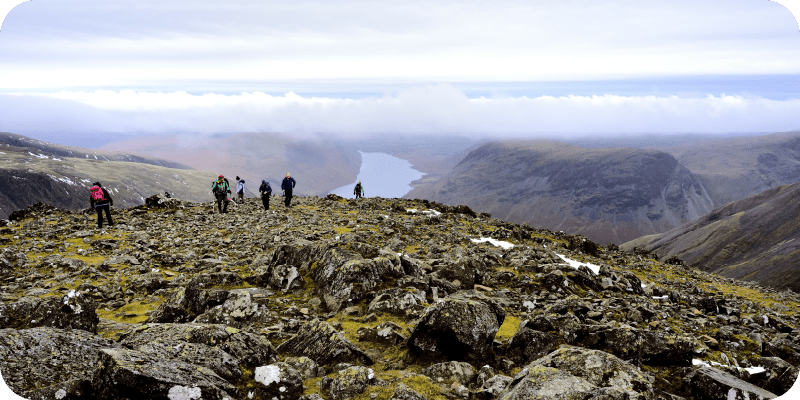 3 days | 25 miles approx. | Tough (2/3)
Step back in time with us, as we spend a weekend exploring historic Hadrian's Wall!
Along the way we'll visit Housesteads Roman Fort, once home to as many as 800 Roman soldiers, and visit the lone tree at Sycamore Gap, which you may recognise from Robin Hood: Prince of Thieves. The rugged scenery of Northumberland National Park awaits – join us in September and explore it for yourself!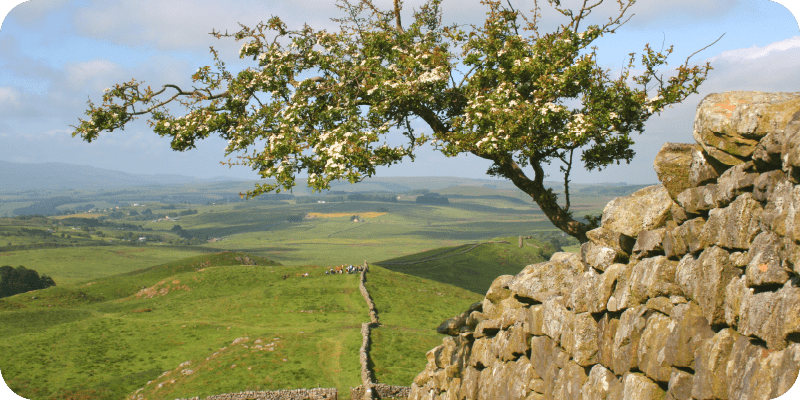 Trekking Challenges at Night
2 days | 9 miles approx. | Challenging (1/3)
Climb Wales' highest mountain by starlight! This exciting twist on the traditional Snowdon Trek takes us on the Llanberis Path to the summit, with only torches to guide our way. If the weather is clear we may be treated to a stunning view of the sunrise as we descend, but come rain or shine the challenge will be a night to remember!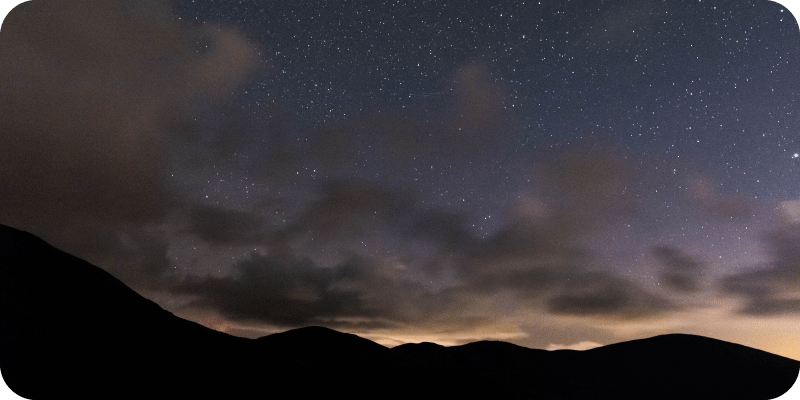 2 days | 18km approx. | Tough (2/3)
Join us as we trek to the top of the UK's highest mountains, guided only by our torches and the night sky! Setting off at around 10 or 11pm our ascent will take up to 5 hours, when we'll hopefully be treated to views of the sunrise over the Scottish Highlands. Following our descent we'll tuck into a breakfast bap, before heading home with an adventure ticked off our list.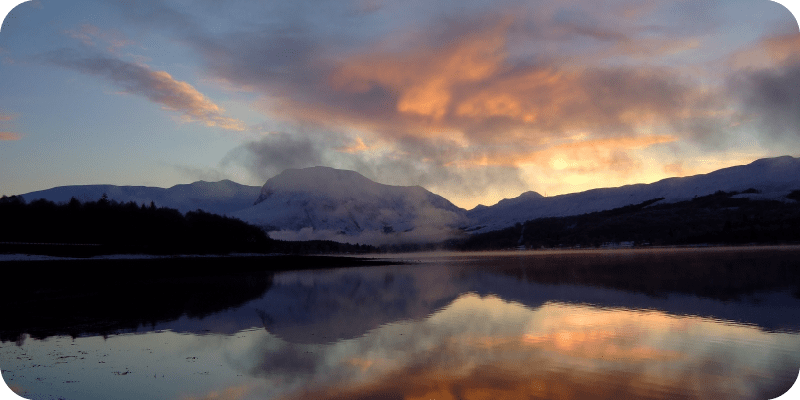 One Day Trekking Challenges
1 day | 25km approx. | Tough (2/3)
Short on time but packing a big dose of adventure, the Peak District Trek is the perfect one day challenge! Setting off from Hope Valley, we'll start our day with awalk over Hollins Cross to Edale. Our demanding route continues as we climb up and over Kinder Scout, the Peak District's highest point, before dropping down towards Kinder Reservoir. A much-deserved glass of fizz awaits at our finish line in Hayfield!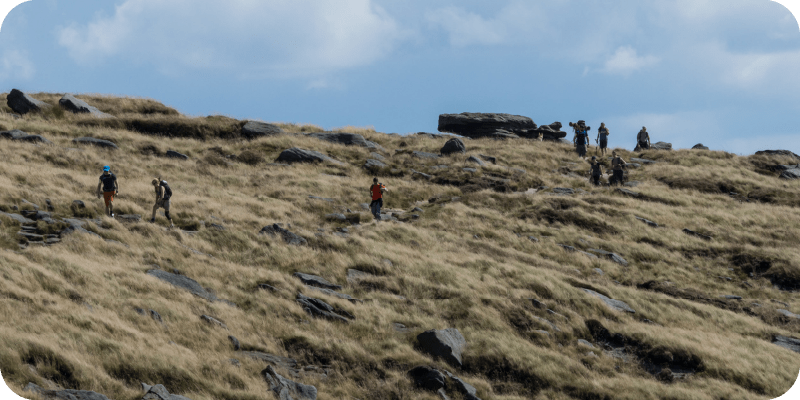 1 day | 25km approx. | Challenging (1/3)
One wall, one day, and one fantastic trekking challenge! If you can't spare the time for the Hadrian's Wall Weekend Trek, this one day adventure will tick all the boxes for a memorable trek. Setting off from close to Housesteads Roman Fort, we walk along the Wall passing plenty of forts or Milecastles along the way. Our finish point is at Wall Town National Park Centre, where we'll be treated to a hard-earned glass of fizz!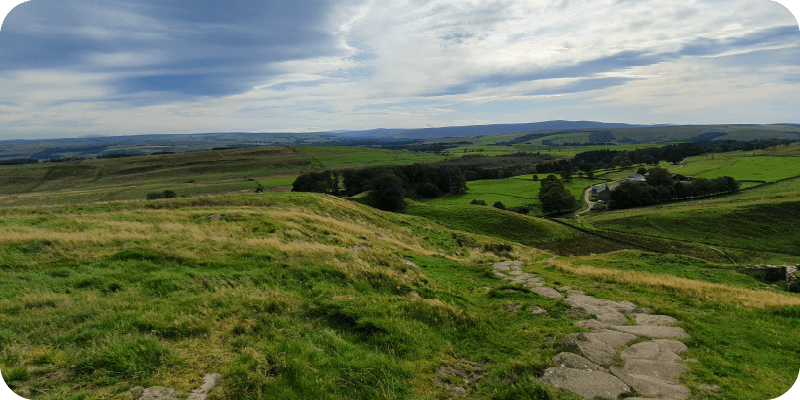 1 day | 24 miles approx. | Tough (2/3)
The Yorkshire Dales' highest peaks await! This trekking challenge sees us take on Pen y Ghent, Whernside and Ingleborough in one adventure-packed day. Our circular route starts and ends in Horton in Ribblesdale, and includes over 1,700m of ascent – prepare to have your boundaries pushed! The beautiful Yorkshire scenery provides the perfect backdrop to our trek, it's little wonder this adventure this UK adventure has become one of the classics!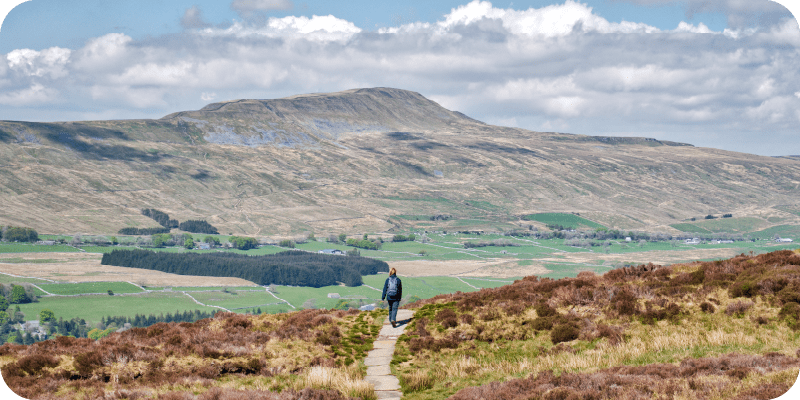 Ready to start your 2023 UK adventure? Just click the button below to get exploring!
Whether you take on our UK treks to push your boundaries or as a charity challenge, you'll be fully supported by our experienced team every step of the way.
return to adventure journal