Global Adventure Challenges Loyalty Scheme
As a thank you to our repeat adventurers, we're excited to introduce our new loyalty scheme!
We're offering registration fee discounts to those who have joined us for multiple adventures, up to a maximum of 50% off!
The process is easy - just set off on your challenge, complete our post-challenge survey when you return, and you'll save when you sign up for your next trip.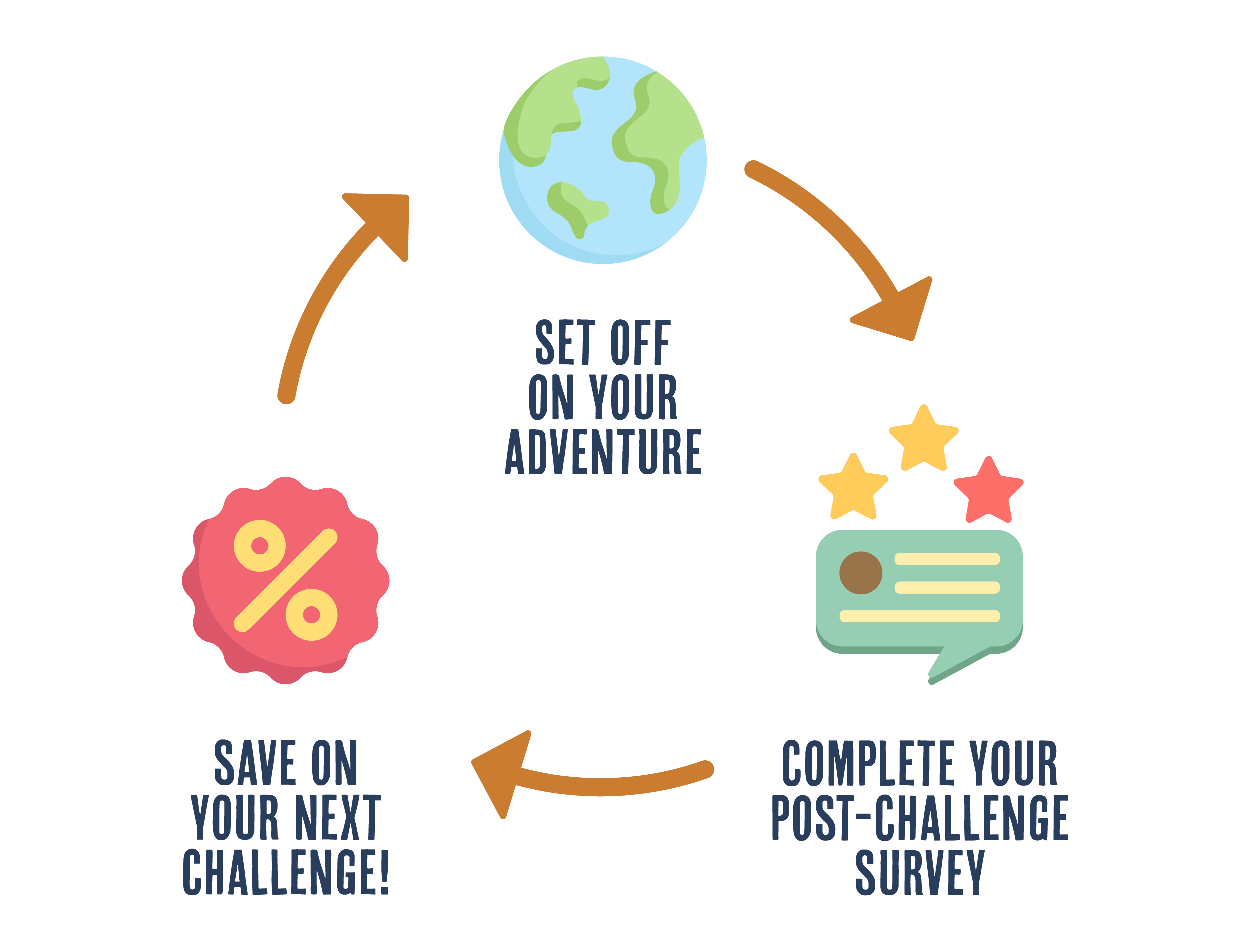 What level of discount am I entitled to?
The discount you're entitled to depends on how many challenges you've joined us for, and whether you filled in your post-challenge survey. Please keep in mind, only departed challenges will count towards your discount - challenges cancelled by you or GAC, or challenges that have not yet taken place will not be taken into account.
I've been on a challenge with you and completed my survey – how do I get my discount?
Redeeming your discount is simple – all you need to do is email us at customer.care@globaladventurechallenges.com letting us know which adventures you have joined us for, and we'll send you back a discount code so you can get your next adventure underway! Please note, your most recent challenge with us must have taken place within the last 2 years to count towards your discount.

Terms and Conditions - Created 05.09.2023
Your discount is not transferable and cannot be used by friends or family;
You must complete the post-challenge survey following your challenge to receive a discount;
Only challenges that have departed will count towards your discount - challenges which have been booked and cancelled by you or GAC prior to departure will not count towards your discount;
Your discount is only applicable to future challenges, and cannot be applied retrospectively to challenges already booked;
You must register using your discount code within 2 years of your last challenge returning, or your discount will expire;
Discount cannot be used in conjunction with any other offer or discount;
Discounts have no alternative cash value;
All discounted registrations fees are non-refundable and subject to our standard booking conditions.
The Company reserves the right to withdraw the promotion at any time.
return to adventure journal