Meet Dawa!
If you're lucky enough to have been on our Himalayas Trek or Everest Base Camp Trek, you may already know Dawa - one of our incredible guides from Nepal! We asked Dawa to tell us more about his role, and how he started his career in adventure.
What is your role?
My name is Dawa Geljen Sherpa and I have been leading Adventure Thamserku Treks and Expeditions since 2004. At Adventure Thamserku, I look after the overall functioning of the company and also work as one of the senior leaders for the adventure treks that we organize in the Himalayas of Nepal.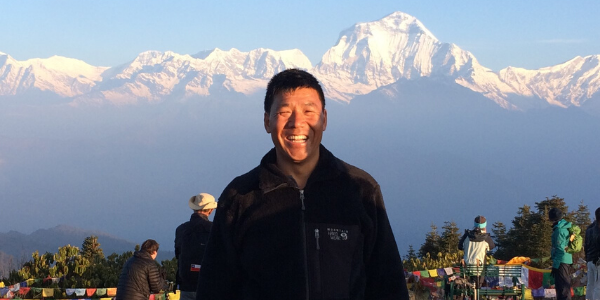 How long have you been working in the adventure travel industry?
I have been involved in this profession since 1983. Then I was sixteen years old also had to earn for my family so I quit my school and started working as a porter for expedition companies that led mountaineering expeditions in the Everest Region. As I got experienced and began to learn English, I started as an assistant guide and by the time I was in my mid-twenties, I started to lead trips for multinational companies and eventually in 2004, I started my own company.
What made you want to get involved?
In the beginning, it was a compulsion rather than a desire. I was born and raised in the village of Lukla, the gateway to the Himalayas. My parents herded Yaks and were involved in agriculture for a living. There wouldn't be enough food on our plates throughout the year since Lukla isn't an agriculturally fertile region. So, I had to work to help my parents earn enough for living. The only other option in the village besides farming was to work as a porter for expedition teams looking to climb the mountains. So, I started as a porter to carry luggage and supplies for the expedition team.
What is your favourite thing about your job?
The thing I like most about my job is the interaction and connection with people from all around the world while you are trekking in one of the most beautiful places in the world. People pay for it while I earn from it.
Tell us your favourite thing about Nepal?
Nepal is one of the smallest yet the most diverse country in terms of nature, people, culture and life. Within an area of 181,447sqm, we have both the deepest valley in the world and the highest mountain in the world. There are more than 80 distinct ethnic groups and 123 different dilates in Nepal, which makes Nepal a peaceful garden of different religion, ethnicity, culture, language and dresses.
Among the many things that I love about Nepal, I think mountains are what fascinates me the most. They touch the ground and stand above the clouds, which always inspires me to aim higher and yet not to lose my ground.
Thanks Dawa!
If you're feeling inspired (then you're not the only one!), then you can find out more about our awesome Nepalese treks on the links below. Don't hesitate to give us a call on 01244 676 454 or email us here for further information!
return to adventure journal