Where is Everest Base Camp? All Your Base Camp questions answered!
The Everest Base Camp Trek is one of the most iconic and well-known treks in the world, taking us to the most famous base camp of all time at the foot of the highest mountain in the world!
But where exactly is Everest Base Camp, how long does it take to get there and how difficult is it to reach?
Where is Everest Base Camp?
Mount Everest is the world's highest mountain and part of the Nepalese Himalayas, standing at 8,848m above sea level. Everest Base Camp is either one of two base camps on either side of Mount Everest. South Base Camp is located in Nepal at an altitude of 5,364m and North Base Camp is at 5,5150m in Tibet. These camps are primarily used by mountaineers to ascend and descend the World's highest mountain. The Everest Base Camp Trek on the Nepalese side (South side), is one of the most popular trekking routes in the Himalayas, and the destination of our Everest Base Camp Trek.
What is it like trekking to Everest Base Camp?
Trekking to Everest Base Camp really is a once in a lifetime experience! Hiking through the foothills of the Nepalese Himalayas is an incredible experience; eight of the world's fourteen highest peaks are located here – there really isn't a mountain range quite like this anywhere else on Earth.
The trek starts in the picturesque village of Lukla, before trekking along the Dudh Koshi River, through rhododendron forests, along a glacial lake and up onto the Khumbu Glacier itself. We then reach the prayer flags of Everest Base Camp. An experience like no other!
Our Everest Base Camp Trek sees us spend the following day pushing on further to summit Kala Patthar – a mighty peak at 5,545m, overlooking Base Camp, with the most incredible view of Everest. Over the next couple of days, we retrace our steps (with a few diversions to experience new exciting views!), back to Lukla.
For the full itinerary and to request a brochure click HERE.
How hard is it to trek to Everest Base Camp?
Climbing to Everest Base Camp is a challenge – but an achievable one! You don't need any specialist equipment or technical climbing skills. This is a trek – on mountain paths, gentle gradients and, of course, with some steep sections. No matter what your age, experience or fitness level, as long as you put in the correct training you will be able to conquer Everest Base Camp!
We have rated our Everest Base Camp trek as Extreme (3/3), due to the fact this is a long trek at altitude, covering a distance of 120km over 12 days. The days will be long and tough; tackling some significant climbs across varied terrain. However, our itinerary has been designed to maximise your chances of success – remember, this is not a race! You will be surrounded by a strong support team – our crew are simply the best around, motivating you to push on and achieve your goal!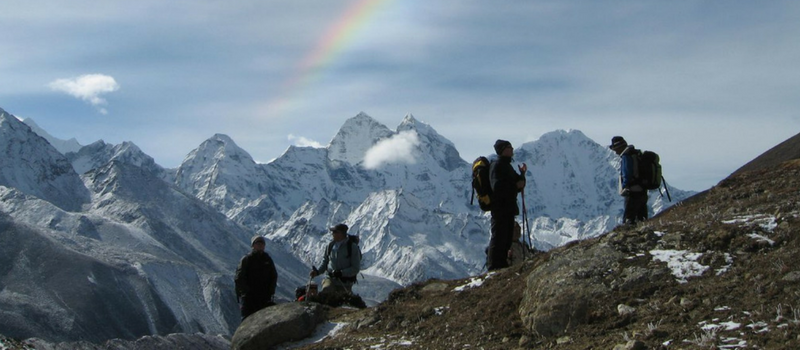 What about altitude sickness?
One of the most challenging aspects of the trek and one you can't train for is the effects of high altitude. Altitude sickness occurs when your body is exposed to low amounts of oxygen at high altitude. Symptoms include breathlessness, headaches, nausea and vomiting and can be life-threatening at very high altitude. However, as long as you take things slowly, drink plenty of fluid and have a well-planned out itinerary, you should have no problems acclimatising well. Here at Global Adventure Challenges, we ensure our itinerary is designed to maximise your chances of reaching Everest Base Camp and ensure you have the best possible time doing it!
How long does it take to trek to Everest Base Camp?
The total time away from home needed to complete our Everest Base Camp trek is 18 days. This may seem quite long at first – but this includes all travel days, acclimatisation days and some free time to explore the Nepalese capital, Kathmandu. In total we will be trekking for 10 days; 7 days up to Everest Base Camp (plus two acclimatisation days) and then 3 days back down to Lukla.
On a typical day we will be trekking between 4-7 hours a day, covering anywhere between 6km and 18km – a total of 120km!
How fit do I need to be to trek to Everest Base Camp?
Good cardiovascular fitness is vital in order to complete this trek, therefore training beforehand is essential and will give you the best possible chance of reaching Everest Base Camp. The fitter you are, the more likely you are to enjoy this experience. Remember – this challenge involves 12 days of continuous hiking, for up to 8 hours a day.
We recommend that you go on as many training walks as possible – on varied terrain and gradients. Also, make sure you are training on consecutive days – to help your muscles get used to continuous walking days and remember to train with your day bag!
All of our participants will receive a training guide, which can also be found on our website HERE. We also offer training days to help with your training, have a chance to ask your questions to the experts and meet like minded individuals!
When is the best time of year to trek Everest Base Camp?
There are two main seasons to climb to Everest Base Camp; Pre-Monsoon (March to May) and Post Monsoon (October to November). Our challenge dates can be found HERE.
Our Top Three Tips for climbing to Everest Base Camp
Walk slowly. This is vital in order to acclimatise well and will ensure you have a more enjoyable overall experience. Remember – slow and steady wins the race!
Hydrate, hydrate, hydrate! You should carry (and drink!) 2 litres of water with you each day in order help with your acclimatisation.
One golden rule to staying healthy is to keep your hands clean! Wash your hands whenever you can, especially before eating. This is so important to help you to avoid stomach upsets. Antibacterial hand gel will become your new best friend!
Follow in the footsteps of the great explorers and join us on this unforgettable trekking adventure, as we trek to the foot of the highest mountain in the world!
Request a Brochure Today!
return to adventure journal