Dan's Kilimanjaro Adventure!
Here at Global Adventure Challenges we pride ourselves on being adventure travel experts! Our staff are extremely knowledgeable on all our incredible challenges – we have a love of adventure and love to get out and experience the challenges for ourselves!
Recently Charity Account Manager, Dan took on a lifelong dream and trekked to the roof of Africa on our Kilimanjaro trek.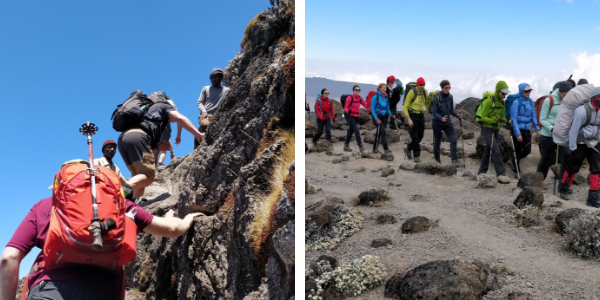 We caught up with him on his return to hear all about his incredible experience trekking to the roof of Africa …
Firstly … well done on reaching the summit of Kilimanjaro! That's such a fantastic achievement! What made you want to hike to the roof of Africa?
Thanks! It's something I've always wanted to do, so when I was offered the chance I jumped at it.
What a great opportunity! How did you go about preparing for this challenge?
I did as much training as I could including a trek up Snowdon and a few other hills, but most of my training was in the gym. Lots of rowing on the erg and weight training to build up my strength.
Do you have a specific moment that was one of your favourite experiences of the challenge?
It's hard to say just one - there were so many! I loved trekking through the rainforest, the Barranco Wall was exciting and great fun, the trek up to Lava Tower was our first taste of altitude but reaching the summit was definitely the best part. It's the most amazing feeling reaching the roof of Africa!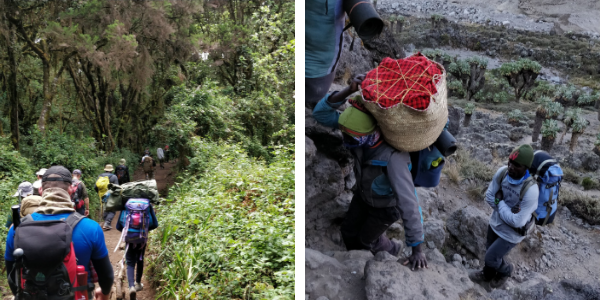 It all sounds incredible, memories to last a lifetime! What did you find most challenging about the experience, and how did you overcome this?
3am on summit night! This was the toughest part of the challenge by far! Its pitch black, freezing cold and the trail seems never-ending. However, once the sun peaked over the horizon I got my second wind! You just have to keep going and think positive! It is all worth it when you reach the summit.
Wow, sounds tough! What was it like up on the mountain? I bet the views were amazing!
Absolutely stunning! It's very surreal being above the clouds from day two onwards. Approaching the mountain from the rainforest means that you don't get to see the mountain until you are above the treeline. From there you get the most amazing views of Mount Kilimanjaro and Mount Meru to the south above the clouds. The ecosystems change every day, from think forests to heather, moorland and finally desert – it's like nothing I've ever experienced.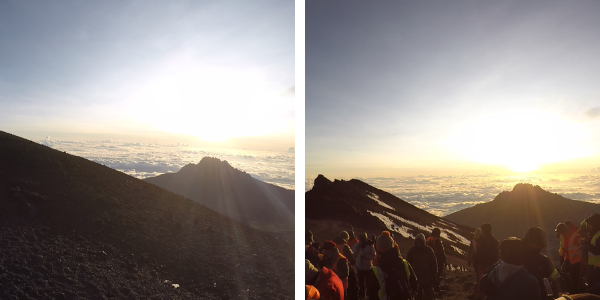 I bet – the pictures look amazing! What motivated you to get to the top, when you were finding it tough?
As I work for Global Adventure Challenges, I felt a bit more pressure on me to make it to the top. The continual ribbing from co-workers if I didn't make it was my motivation to keep going! Summit night was the hardest point.
Ha! I bet you couldn't wait to get back to the office knowing you had conquered Kilimanjaro! What have you taken away from this experience?
The amazing sense of achievement. The people I met and the locals in Tanzania, it was amazing to meet them all. Our local guides and team up on the mountain were fantastic and very inspirational!
That's great to hear! The local guides really are incredible. Was this your first charity challenge? If not, what else have you done and how did it compare?
This wasn't my first challenge but it was definitely the best and the hardest at the same time! I have taken on our Cycle California challenge, ran half and full marathons in the past. But this challenge was very different, it's hard to compare them!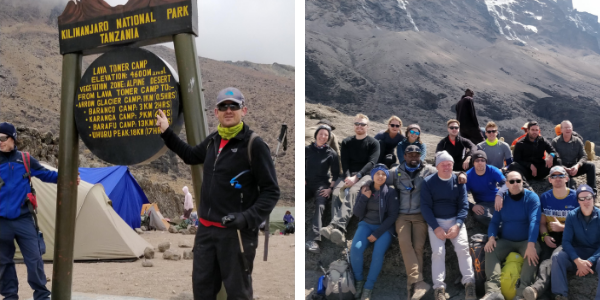 Now that you have climbed to the top of the world's highest free-standing mountain, where would you like to adventure to next?
I would love to visit Peru and trek the Inca Trail or go to Nepal and trek to Everest Base Camp. I love cycle challenges too and Madagascar and Burma both look amazing. It's too hard to pick just one!
Very true! And finally, if someone was looking to sign up to our Kilimanjaro Trek – what advice would you give them?
Make sure you do as much training as you can in the lead up, but don't go crazy! On the challenge itself, make sure you take it really slowly, eat as much as you can as often as possible and drink 4-5 litres of water a day - and don't think about the summit night.
Enjoy every single day and get the most out of it as you can, this is not a challenge people tend to do twice! If you do all of the above, you should be in great shape come the final day and the summit night will take care of itself. Finally… don't give up! It really is a once in a lifetime adventure!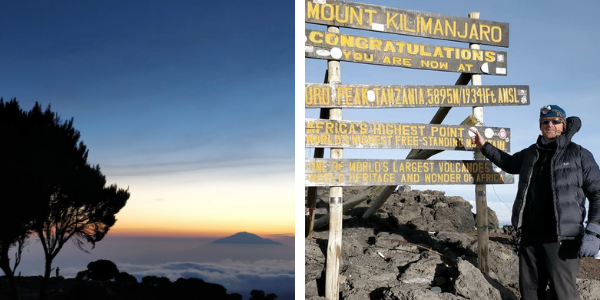 Do you feel inspired to follow in Dan's footsteps and trek to the summit of Kilimanjaro? Our Kilimanjaro Trek is one of our toughest challenges, and will test you both mentally and phyically. However, our incredible guides will support you every step of the way and our route is designed to maximise your chance of summiting - we add an extra day to the traditional Machame Route, allowing for gradual acclimatisation. The sense of achievement you will feel when you reach the highest point of Africa will be a moment that will stay with you forever!
Check out our Kilimanjaro challenge HERE, or feel free to give us a call on 01244 676454 and we'd be happy to answer any questions you may have on this epic adventure!
Related Blogs
return to adventure journal